Jesse Long - 1925 - 2014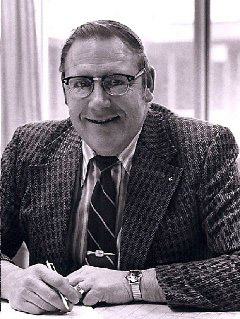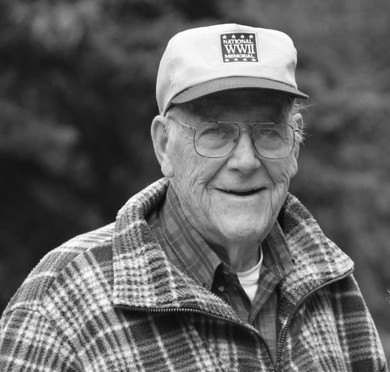 On July 26, 2014, Jesse William Long Jr. - former Park Senior High Principal, passed away peacefully in his sleep in Helena. He was born in Laurel on Feb. 16, 1925, to Jesse William and Lassara Ruth Hartman Long. He attended the Northside Elementary School, graduating from Laurel High School in 1943.
Jesse grew up in the railroad town of Laurel during the Depression years. He was fortunate because his father was a railroader with a seven-day-a-week job during the bad years. Going to his uncle's farm for milk, eggs and wheat for bread was a special memory. Occasionally, the family was able to travel by train to visit relatives. The best times were the vacations to the Hells Canyon Ranch on the Boulder River for a fishing trip. Pheasant hunting with his father, going to baseball and basketball games were special to him. High school was a grind until a teacher, Miss Schofield, got him interested in chemistry.
During part of Jesse's senior year in high school, he worked a night shift as a "hostler helper" for the Northern Pacific Railroad. In June 1943, he was drafted into the U.S. Army. He was sent to Fort Knox, Kentucky, for basic training and testing an experimental new tank. Jesse was shipped overseas shortly after the D-Day invasion, joining the 2nd Armored Division, pushing through France and engaging the German army at the Battle of the Bulge. On March 3, 1945, he was wounded and received the Purple Heart, Bronze Star and, later, the Belgian Fourragere.
Upon his discharge in December 1945, Jesse enrolled at Montana State College at Bozeman. He graduated in June 1950 with a B.S. degree. In September 1947, he was raised as a Master Mason in Corinthian Lodge #32, Laurel. In August 1950, he was hired to teach science,
chemistry and math at Twin Bridges High School. Among many things that happened there, he was introduced to a first-year home economics teacher named Ruth Croskrey. On their first date, Jesse ran a stop sign and was picked up by the Highway Patrol — so much for paying attention to driving. Jesse and Ruth were married in St. Paul's Lutheran Church in Missoula on Aug. 19, 1951. To their delight, two children were born, Laurie Ann on April 28, 1954, and Marc Alan on Aug. 25, 1955. In 1953, he and Ruth built a log home from the ground up with little or no experience and hired no one to work on the house, except for a few wiring connections. Summer jobs included painting houses, pulling green chain at a lumber mill, roofing houses, carrying hod and managing and working at the Madison County Fair. In addition, Jesse enrolled and received a M.S. degree in school administration from what was then Montana State University in Missoula in 1960. He also served as part-time high school principal at Twin Bridges High School. During the Twin Bridges years, he enjoyed the deer and elk hunting in the surrounding mountains and the tremendous fishing in the Big Hole, Jefferson and Beaverhead rivers. He served as president of the Twin Bridges Rotary, chair of the board of Church of the Valley and moved through the chairs of Masonic Lodge Westgate #27, serving as Senior Warden in 1964.
Jesse was hired as the first full-time high school principal in Soda Springs, Idaho, in 1964. Under his watch, the high school enrollment rose from 130 to just over 400 in two years. On Aug. 4, 1965, Jesse and Ruth were blessed with a second son, Gary Jonathan. Jesse worked part time, night shifts and weekends, as a chemist at the Kerr-McGee Vanadium plant and as a crop hail adjuster, during the summers. While in Soda Springs, he served as secretary and president of the Lions Club and was an elder in the Presbyterian Church.
In 1968, Jesse was hired as the assistant principal, and later as principal at Park High School in Livingston. During the years in Livingston, he was a member of Holbrook United Methodist Church, where he served as chair of the board. He was a member of the board of trustees for the Livingston Memorial Hospital. In 1978, he retired after 30 1/2 years. He advanced into the Livingston Scottish Rite and joined the Algeria Shrine. In Livingston Lodge #32, Jesse advanced through the chairs serving as Senior Warden that year.
Jesse is survived by his wife, Ruth; daughter Laurie (Lyle) Howell; son Marc (Tracy) Long, son Gary (Maggie) Long, granddaughter Cheridy (Amas) Aduviri and great-granddaughter Brooke; grandson Corey (Heather) Long and great-granddaughters Lauren and Ali and great-grandson Levi; grandson Ryan (Lisa) Howell and great-grandson Sawyer; granddaughter Lacy (Ty) Clark and great-grandsons Ryersen and Soren. His parents and a brother, Leroy Wallace, preceded him in death.
A memorial service celebrating Jesse's life will be held at 11 a.m. on Friday, Aug. 8, 2014, at St. Paul's United Methodist Church, 512 Logan St.