Park Senior High School


Class Of 1971
UPCOMING BIRTHDAYS

The Rent is Due...
This is a great website, but the cyber real estate isn't free. Your generous donations paid the subscription in 2013 and 2014...now 2015 is due and the piggy bank has insufficient funds to cover the $97 bill. Two of our classmates (you know who you are, gentlemen!) kindly donated $40 over the summer. Please help us cover the balance by making a contribution -- no matter how small. Click on the "Donate" button in the right hand column. You can use PayPal, a credit card...or even send a check to one of the administrators, if you prefer. Hit "Contact Us" at the top of the page to send a message...we can work out the details.
Thanks for keeping The Class of 1971 up and running!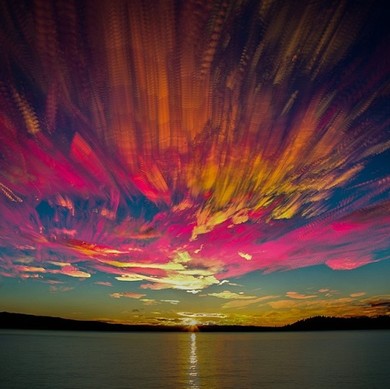 A Montana Sunset Time Lapse
Photographer Cody Payne shot a picture every five seconds,
resulting in his beautiful #MontanaMoment.
ANNOUNCEMENTS
•

Livingston Authors in Print

By DARRELL EHRLICK - Billings Gazette


If a new trilogy of books by Montana-based Bangtail Press were a collection of music, it'd be a box set.

But not just any box set.

The anthology of Montana writers would have big hits by all the greatest artists.

Bangtail Press, led by publisher Allen Jones, squeezed works from 95 Montana writers (including fiction, memoirs, essays and poetry) into a three-volume set sold exclusively at three local, independent bookstores in Montana. The trilogy cannot be found in any other bookstore, retailer and not through any corporate bookseller.

The concept was dual-pronged: showcase the deep writing talent in three areas of Montana, and also support the local booksellers.

"A Fact & Fiction Reader" showcases writers from the Missoula area. The editions are sold at Fact & Fiction booksellers in Missoula.

Jones created another anthology for "A Country Bookshelf Reader" in Bozeman and "An Elk River Books Reader" in Livingston. Each of the books in the three-volume set sells for $19.95, and the three bookstores sell all three.

Writers featured include William Kittredge, Thomas McGuane, Russell Rowland, Jim Harrison and Gwen Florio. The works are a combination of previously published work, rarely seen writings and a few new submissions.

Beyond supporting local booksellers, Jones set out to help solidify Montana's reputation as having the best writers in the West.

"Not a lot of people are aware of how deep Montana's writing talent is," Jones said. "The idea was to draw attention to the wealth of good writing right here."

One of the beautiful things the three-volume set does is demonstrate the diversity of Montana writing, Jones said.

Embarking on the project wasn't easy. First, he had to find the authors. Then, Jones had to convince their publishers to let him reprint the material — for free.

And yet, nearly every writer he approached was eager to pitch in. Once publishers heard that the proceeds would support independent, local booksellers, they embraced the concept.

"It really resonated with (publishers)," Jones said. "That took me by surprise."

Yet the link between bookseller and author is a symbiotic and, in many cases, passionate one.

"Every one of these writers has a favorite bookstore," Jones said.

Those retailers have also seen incredible change in their business as large online retailers like Amazon and big-box bookstores like Barnes and Noble have reduced the number of independent booksellers. The world for book publishing, with the advent of books-on-demand and e-books, has changed.

"You know in the book-publishing and -selling world, everything is kind of up for grabs right now," Jones said. "But the virtue and values for Main Street bookstores needs to be emphasized."

One of the things he hopes readers appreciate is the diversity of almost 100 writers. Hopefully, new readers will try Montana writers as well.

"These will preserve this incredible richness and diversity of Montana literary heritage," Jones said. "Larger publishers probably would not have published these because anthologies don't sell well. So, from a commercial perspective, this doesn't make sense. But it makes all kinds of sense from a community perspective.

"These need to be there."

Read more: http://billingsgazette.com/entertainment/books-and-literature/montana-anthology-captures-best-of-treasure-state-writing/article_fd802d16-3e0d-5327-9315-3e295dbed23d.html#ixzz3Eu7qaKLJ

•

A Fond Farewell To Mr. Chevallier


Travis William Chevallier Sr.

(Obituary and picure from Billings Gazette)

LIVINGSTON — Long time Livingston resident, Travis William Chevallier Sr., passed away Friday, Aug. 29, 2014, in Garden City, Idaho, at Emerson House, where he had volunteered and lived for the last 10 months of his life.

He was born on Oct. 17, 1927, in Walters, La. to Len and Arzella Chevallier. Travis's early life was spent in the fields, swamps and woods of Louisiana where his family raised cotton, soybeans and sugar cane. He attended Block High School in Jonesville, La. and was a WW II Navy Veteran serving aboard the USS Mahopac in the North Pacific. He married Laura Marie Haugan of Fishtail in 1948, in Seattle, Wash. After the Navy, he and Laura returned to Louisiana where he attended Louisiana Tech in Ruston. He graduated with a BS in Education and went to work for the Boy Scouts of America as a District Scout Executive in Louisiana and then Oregon.

In 1964, he and Laura moved to Montana where Travis updated his teaching credentials at Eastern Montana College. He started his career in Fishtail, teaching the seventh and eighth grades and moved to the high school level in Absarokee in 1965. Travis also taught and coached in Shepherd for three years before moving to Livingston in 1969. He finished his teaching career at Park Senior High School in 1990. Before, during, and after his career working with children and youth, he was employed as a surveyor's helper, seasonal ranger in Custer National Forest, Park County Weed Control board member, referee, water well driller, house painter, and served as Park County's Disaster and Emergency Services coordinator.

Travis was an active community volunteer. He was a member of Grace United Methodist Church, served as exalted ruler in Elks Lodge No. 246, and served as chairman of The Elks Most Valuable Student Scholarship Committee for over a decade. He was President of the Park County Federal Credit Union, ran for the State Senate, and was a member of the Livingston Government Study Commission. He also volunteered with BSA, Habitat for Humanity, Park County Historical Society, Livingston Memorial Hospital, and other community organizations.

Travis loved being outdoors and shared this passion with his children, grandchildren, great grandchildren, his Scouts and many others-- he patiently taught fishing, building fires, tying flies and boat safety. Although a skilled fly fisherman, long before it was fashionable, he was also very active in the Upper Yellowstone Chapter of Walleyes Unlimited. Anyone that knew Travis for long, found themselves as part of his captive audience. He loved to tell a story!

He is survived by his loving wife of six years, Lois McClure Manning Chevallier of Jonesville, La.; his daughters, Martha Farnes (Larry) of Eagle, Idaho and Tracy Walton of Cottonwood Heights, Utah, and his son Travis Chevallier, Jr. of Tucson, Ariz. Travis has five grandchildren: Paula Spratt (Kevin) of Henderson, Nev., Sarah Soyka (Michael) of Vilseck, Germany, Brian Walton (Irina) of Walnut Creek, Calif.; Keely Chevallier of Salt Lake City, Utah, and John Travis Chevallier of Lake Tahoe, Calif. He is also survived by his sisters, Doris Alexander of Shreveport, La. and Johnnie Stinson of Independence, KY; his sisters in-law, Ina Winge (Petie) of Nye, Marjorie Eddy of Livingston, Ida Chevallier of Coppell,Texas, Jerry Chevallier of Maryville, Tenn., and Ann Taylor of Jonesville, La. Travis was also blessed with eight great-grandchildren, 26 nieces and nephews and a wide circle of other family, friends and former students.

He was preceded in death by his wife of 59 years, Laura Marie; his brothers, JD Chevallier, Vernon Chevallier and Hershel Chevallier; his mother and father, Len and Arzella Chevallier.

A celebration of his life and legacy was held at 11 a.m. on Friday, Sept. 12, at Grace United Methodist Church in Livingston. Anyone desiring to make memorial contributions can give to the Alzheimer's Association, Grace United Methodist Church or your favorite youth organization.

Read more: http://billingsgazette.com/lifestyles/announcements/obituaries/travis-william-chevallier-sr/article_918e9d59-bc7a-5796-bef9-cfe07267bfc5.html#ixzz3Eu9t3fOY

•

Once One of the Fastest Men Alive...

Larry Questad, center, 1968 Olympics, Mexico City

His graduation preceeded ours by ten years, but most of us still remember Larry Questad, Park High's most famous alumnus. He was a three-sport athlete when he grew up in Livingston: football, baseball, track... although to look at his 6'2" and 220 pound frame, "sprinter" wouldn't automatically come to mind. According to an interview in the Missoulian in 2008, he had (maybe still has!) this bumper sticker on his car: "Once an Olympian, always an Olympian. Never former, never past." His personal achievements -- and his proximity to a famous protest -- have never been forgotten. He's featured in the media regularly...this story by Jeff Welsch of the Billings Gazette is the most recent:

-------------------------------------------------------------------------------------------------------------------------------------------------

Only once, in all those years when he was regarded as the fastest white man on Earth, did Larry Questad ever view the world through a racially tinted lens.

Mexico City, 1968. Questad, seven years removed from graduating from Park High School in Livingston, was unwinding after finishing sixth in the 200-meter sprint in a Summer Olympics best known to that point for Bob Beaman's other-worldly long jump, the Fosbury Flop high jump and Jimmy Hines breaking the 10-second barrier in the 100 meters.

Questad had found his seat 15 rows above the track at Estadio Olimpico Universitario, giving him a VIP view of the medal stand where Olympic officials would soon place gold and bronze medals around the necks of U.S. teammates Tommie Smith and John Carlos after the fastest 200 ever.

It had been a tumultuous year, of course. The assassinations of Martin Luther King and Robert F. Kennedy had fueled racial unrest nationwide. Murmurs of some form of protest had even permeated the Mexico City Games, fueled by the omnipresence of provocative California-Berkeley sociologist Harry Edwards.

Such thoughts seemed far away at that moment for Questad, who as he sat down was reliving a disappointing race, mentally preparing for relay qualifying the next morning, and thinking about his new life in the corporate world after the Games. The third-fastest American only remembers thinking it odd that Smith and Carlos had emerged from the stadium tunnel wearing black socks and single black gloves, Smith on his right hand and Carlos on his left.

But nothing could fully prepare him for happened next — a surreal moment that lives in Olympic infamy and an event that Questad, now retired and living in Boise, Idaho, hasn't fully reconciled 46 years later.

As the Star-Spangled Banner began, Smith and Carlos bowed their heads and thrust their gloved fists toward the morning sky in a human-rights gesture viewed worldwide as a black-power salute.

Questad was aghast.

"It was horrible, an embarrassment for everybody," he said.

He was at least as hurt as he was angry. He had trained and traveled, won and lost, sweating blood and tears for years, with both Smith and Carlos. Yet never once did they or any other sprinter on the U.S. team approach him for his perspective — for the lone white man's perspective.

"I find it a very strange thing," Questad, now 71, said in a recent phone interview. "I was the only white sprinter, and I thought they would've sought me out. They might find out there was a difference of opinion of what was going on. For some reason, nobody ever did. I was the wrong color."

Until then, Questad had been color blind, even if it was obvious that he was unique among the world's greatest stable of sprinters.

Never did he see himself as an extraordinarily fast white man. He was simply fast, a sprinter who was less interested in the startling times in compiled while running the 100 and 200 in both yards and meters than he was in simply winning.

"I think I was lucky that I had some natural talents," he said.

Those natural talents were evident from Questad's youngest days in Livingston, where he grew up playing baseball in the summer, football in the fall, basketball in the winter and ran track in the spring. His 9.6 in the 100-yard dash was a state record that is believed to still stand; his name was purged from the Montana High School Association record books when the sport switched from yards to meters — a slight that has moved him many times to pick up paper and pen to write a letter, only to stop short.

"That's just not right," he said, noting that he was state champion in the 100, 200 and low hurdles three times in each event. "I just think I should be there."

Questad's exploits earned him athletic scholarships to numerous schools, mostly for football. His sprinting earned him invitations to compete in Amateur Athletic Union meets against the country's best, where he quickly discovered he was usually fastest. And his academic prowess earned the attention of some of the finest universities, including Stanford.

He chose an academic scholarship to Stanford, he said, not wanting the pressure to perform as an athlete.

"Stanford was this California school that I didn't know squat about," he said. "The reason I went there was typical of someone growing up in Livingston – it was a California school with good weather."

Under the tutelage of famed Stanford track coach Payton Jordan, Questad blossomed. He was NCAA champion in the 100 as a sophomore. He won both events at the World Games in Helsinki in 1963 and did the same that summer at the World Communist Games in Moscow, where he was one of three Americans invited because of the friendship between Jordan and the Soviet coach.

For much of the mid-1960s, the small-town kid from Livingston was ranked among the top two to five sprinters in the world.

"It's pretty significant," he concedes. "Even if it's the top 10, that's top 10 in the world. Who's doing things where you can look at yourself in the mirror and say, 'I'm top 10' "?

Even more memorable than the Smith-Carlos incident was Questad's experience in Cold War Moscow. He and two Stanford teammates were the only Americans in a stadium where he remembers a throng of more than 90,000 "drinking vodka and eating fish."

They ate and drank with the Soviets and other Eastern Bloc athletes in a hall where Soviet Premier Nikita Khruschev spoke.

"And then I had the audacity to beat them," he recalled with a laugh.

He returned days later to be the grand marshal in Livingston's Fourth of July Rodeo parade. He still has the giant crystal, gold and silver bowl for earning the outstanding performer award.

As with the 1968 Olympics, he viewed the event as merely a sporting event. He paid little attention to politics.

"Athletes were athletes," he said. "We were friends. We shook hands and hugged each other. It was a beautiful way of melting the Iron Curtain."

By then, Questad was poised for the 1964 Summer Olympics in Tokyo. That year, one man had emerged as faster: "Bullet" Bob Hayes, who set world records with a 9.2 and then a 9.1, and would later play for the Dallas Cowboys. Questad was at 9.3.

"The only person I knew was faster than me was Bob Hayes, and I'd been pretty close to his hip pocket," he said.

Questad was certain he'd medal. But at the Olympic Trials, he pulled a muscle. He began contemplating life away from track.

"It is what it is," he says now of the disappointment.

Questad graduated from Stanford with an engineering degree in 1965 and enrolled a year later at the University of Southern California to pursue a Master's degree in business administration. There, with the L.A. Striders club in his backyard, the competitive juices flowed again.

The Striders gave him permission to train with them. That old feeling came back to his legs.

"I basically called up my parents in Livingston and said, 'I want you to know you need to get your tickets to Mexico,' " he said. "Fortunately, they listened."

For two years, while earning his MBA, his only other focus was Mexico City. He put a 3x5 poster for the Games on his bathroom door, where he'd be reminded of his mission daily.

By then, of the top 20 sprinters in the world, 18 were Americans.

"I actually think it was much more important to make the team than it was to win the Games, because it was much more difficult," he said.

Questad made the team. The rest is well-known history.

He remembers the rumors about a protest and off-handedly telling teammates that the Olympics weren't the time or place. He recalls seeing Edwards holed up with athletes and not liking the vibe.

"Therein lies the spark that got all this going," he said. "He was the one around gossiping, and you'd see a couple sprinters sitting on a bench with him talking and in very animated discussions. But I was really trying to get away from everybody. I wanted to be by myself and do the mental gymnastics you do before you go into a competition like that."

Questad said that he has attended 1968 reunions periodically and sees both Smith and Carlos. Time has healed some wounds. He says if he saw Smith they'd probably hug; he's not as certain about Carlos.

"One was a rebel (Carlos)," he said, "and one was a little bit more of a thinker (Smith)."

Questad retired from track after Mexico City and went to work for IBM in Boise. In 1994, he took early retirement and then a year later purchased a company called Superior Steel Products Inc., in Caldwell, Idaho, which makes storage and transportation tanks.

He sold the company to his sons, Christian and P.L., the latter a Montana State graduate, in 2011.

Questad periodically returns to visit childhood friends in Bozeman and Livingston, though not as much as he'd like. To keep his heart close, he has an oil painting of Livingston prominently displayed in his Boise home.

"It was a good place to grow up," he said.

As for Mexico City, the Smith-Carlos gestures haven't tainted his memories. He gets misty-eyed at hearing the Olympic theme, and when he watches the opening ceremony, he doesn't see black or white – he sees great athletes who are fortunate enough to say, like him, that they are among the best in the world at what they do.

Read more: http://billingsgazette.com/sports/more/born-to-run-livingston-native-once-the-world-s-fastest/article_1af7027a-5a0d-59b0-9634-1f2625cb47a8.html#ixzz3EuF3InfL

•

MASCOT QUIZ

As long as we're discussing high school althletes of the past, how well do you remember team mascots from around the state? Here's a quiz from The Montana Mint website:

http://www.montana-mint.com/2014/08/29/mt-quiz-do-you-know-your-high-school-mascots/