Park Senior High School


Class Of 1971


Not a member?
JOIN HERE
Find and click on your name.

UPCOMING BIRTHDAYS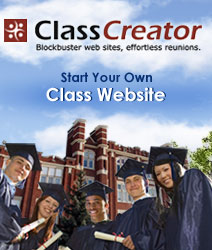 ANNOUNCEMENTS
•

Dennis LaVoy, Rita Glueckert, Joe Glueckert, Ray Glueckert, Sandy Pimperton (a cousin who was instrumental in connecting the family dots). Shirts read: Maxine's Kids - It's A DNA Thing! Seaside, OR 2018

Joe's Discovery

Our classmate Joe Glueckert knows first hand that a DNA testing kit can lead to some amazing - and life-altering - outcomes. He has posted the details on classmate Lindie Fink Gibson's Classmates Chatter, but the abbreviated version is that, at age 66, Joe discovered he had an older brother...a secret kept for seven decades and only revealed when technology interesected with chance.

Neither Joe nor his siblings had undergone DNA testing, but some of their cousins had. Their genetic makeup bore similarities to that of someone in Seattle...a man who knew he had been adopted as an infant. It was enough to trigger more investigation and, ultimately, a letter to the Glueckert siblings. As Joe says, they initially suspected some sort of scam. But after lots of correspondence and filling in the blanks where they could, they finally pieced together a long hidden chapter of their family's history.

It was a different era - one in which unmarried pregnant women faced powerful social ostracism, as did their children. Today, that stigma is almost non-existant, but in the late 1940s, pregnancy outside of marriage was a terrifying prospect. It's easy to feel compassion for a frightened young woman with few options. Joe guesses that a long-time family friend, a Catholic nun, helped his mother get to a newly opened facility for unwed mothers in Spokane. HIs half-brother Dennis was born there and soon adopted by the LaVoy family.

When the siblings finally met last summer, they didn't need genetic mapping to confirm their relationship: as you can see in the photo above, the resemblance is strong. Some say Joe and Dennis even sound a bit alike...still more surprising are the shared mannerisms. Their late mother guarded her painful secret for her entire adult life...never could she have imagined that all of her children would be united one day and find joy in their new connection.

It's a story with a sad beginning, but a happy ending. Congratulations to Joe and his newly expanded family...and thanks to them for sharing their experience.