Park Senior High School


Class Of 1971
UPCOMING BIRTHDAYS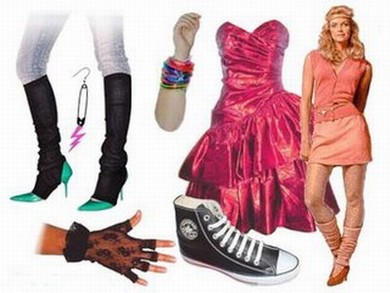 Back to the '80s in a new twist on Park High Reunions
The Future of Class Reunions?
Multi-year high school reunions aren't anything new. It has always made sense to combine several graduating classes when the alma mater is very small....or when time reduces the number of surviving classmates who are well enough to attend. So it's interesting to see the approach being used by Park High's comparatively "young" alumni from the 1980s. They're promoting a gathering covering not two or three years, but the entire decade. The event is described as "...an all-class Gen-X reunion from the decade that brought you The Breakfast Club, Ms. Micken's outdoor ecology forest, arcades and boomboxes, big-hair Aquanet proms, and three State Basketball Championships!"
Their "All-Eighties" party will coincide with Summerfest (July 18, 19, 20) and word is being spread through a slick website: www.parkhighalumni.com. Assuming a big turnout will allow them to hold down expenses, this could be a cost-effective -- if somewhat less personal -- way to stage a reunion. If you have children, other family members or friends who graduated during that time frame, make sure they know what's coming up. Participants are encouraged to embrace their past by dressing the part: there's potential for an onslaught of giant shoulder pads, sweatbands, mullets, leg warmers, and track suits. And people thought the fashions of our era were goofy...
ANNOUNCEMENTS
•

Logo and photo from Summerfest website

Summerfest 2014 is shaping up. The official site (www.livingstonmusicfestival.com) shows the entertainment lineup for July 18 and 19; closing acts for July 20 are to be announced. At least two of the names will be familiar to many: The Max has been a particular Livingston favorite for 30 years; Cold Hard Cash is a popular Johnny Cash tribute band with previous Summerfest appearances. Both will play for the Friday night opening -- a great way to start the party!

According to the city's website, advance tickets will be available online or at designated city offices starting in April. Three day passes (the best buy) are $20 for those 13 years old and up, $10 for ages 7 – 12, children 6 and under are free. Daily passes are sold at the gate during Summerfest for $15 per adult and $5 for kids. A special "Sunday Only" pass is $10. Senior Citizens (65+) can buy $10 daily passes.

•

Geoglyphs: Giant Letters On The Landscape

Origin of the "P - from the Geyser, 1953. Courtesy of Bruce Graham, Yellowstone Gateway Museum

A recent photo of the Fish and the P - Google Earth

Some people mount fish on their walls...Livingston mounted one on a hillside overlooking the town to support its claim as "Trout Fishing Capital". It's a companion piece to the large "P" which was a project undertaken by Park County High students in 1953.

These whitewashed features -- letters, pictures, or even words -- are hardly unique in the West. But for those who grew up with them in the background, it might be surprising to learn they are largely unknown in many parts of the U.S. For whatever reason, they are particularly common symbols of community pride in Montana. Maybe that's because the mountains and foothills provided us with lots of "canvas". As an illustration of how these images have become part of our identity, consider MSU's official seal. It's a circle enclosing a stylized picture of mountains and trees, with the 1893 date the school was established. But look closer: there's a tiny "M" monogram on that slope!

The Background

There's some question about where and when the trend started, but UC Berkley's 1905 "C" seems to have the best documented history. The first letters were built by college students...from there the craze spread quickly to high schools. Some were created by businesses as advertisements. By the 1920s and 30s, geoglyphs were a regional phenomenon. The forms were achieved in different ways, most commonly with material (usually stone, but sometimes wooden ties or even old tires) hauled, positioned, and then painted. The chore of whitewashing often fell to service clubs or to lowly freshmen, who traditionally got the job as a sort of initiation. Some features evolved over time, such as Missoula's "M". It started as a rock outline, then was switched to wood, and finally to poured concrete in 1968. Sometimes a design was painted directly on a surface, as if using a giant stencil. Less commonly, a shape might have been cut into existing groundcover or framed with live plantings. Even the iconic "Hollywood" sign in the hills above Los Angeles is a variety of geoglyph.

How Many?

Numbers are hard to pin down -- there's little agreement among sources -- but there may be more than 500 scattered across the west. Many are overgrown; lists are incomplete or outdated; some formations are well off the beaten path. Depending upon where you get your information, there might be 71, 88, or 112 still in existence around the state, with Wikipedia reporting far fewer than other websites credit. Some tallies give Montana nearly twice as many as in California, which has the next highest concentration. What's certain is that few new ones are being built. There's a lack of interest, complicated by ownership, access, and zoning issues. Montana's latest "mountain monogram" might be the one in Great Falls -- students at C.M. Russell High School installed a "CMR" in 2007.

Geoglyph Trivia

"Modern Geoglyphs: Hillside Monograms" (www.geoglyphs.org) provides some interesting factoids, including the claim that our state's most visited letter is the "M" on Mount Sentinel, looming over the University of Montana in Missoula. Surely the "M" for Montana State must run a close second...that climb is one of the most popular hikes in Bozeman. Its 215 ft. horizontal height makes it the largest, but Montana Tech's "M" in Butte holds two records. It's both the oldest (created in 1910) and the only one in the state electrically lit. At one point, Missoula had three: one for the university and two for high schools.

In Our Era

We did our part by whitewashing the fish and the "P" in the spring of our senior year. Those who participated might remember that it was no easy task to mix, haul uphill, and apply gallons of the chalky stuff. Brooms were faster than paintbrushes...it was a messy business. We left our mark in the form of a small "71" inside the loop of the "P". (Wonder if graduating classes still practice that bit of branding?) One classmate has vivid memories of slipping on the slope and landing in the middle of a patch of cacti -- a pratfall straight out of a cartoon. It took her mother some time to pull all of the needles. Those in her hands were one thing, but there were others that kept her from sitting comfortably for a long time...

'Glyphs have always been popular targets of vandalism and school-related pranks. Memories are fuzzy -- haven't there been instances over the years when the stones were rearranged or splashed with red and black by those arch rivals across the pass? Remind us if you recall the details.

More Than 60 Years...and Counting

Geoglyphs are a dying expression in many areas as the commitment to keep them repaired has faded along with the white paint and declining populations. Livingston, though, seems dedicated to preserving the tradition. Can anyone tell us who has assumed the job of maintaining the fish and the "P"...or how often it's done?

If you have an interest, you can read more in the book Hillside Letters A-Z: A Guide to Hometown Landmarks by Evelyn Corning. Or check out these additional websites...and report any additions you can document:

Mountain Monograms: deuceofclubs.com

Wikipedia: HILLSIDE LETTERS

Photos from 1971 Yearbook

•

Montana Hall, MSU - Photo by Wunderground/Bisondoc

Dubious Distinction...

Montana State was ranked #4 among "America's 25 Snowiest Colleges and Universities" in a Weather Channel story by Alan Raymond. The survey used average annual snowfalls in towns and cities nearest 350 Division I schools. Compared to Bozeman's comparatively low 93.5", the deepest snow can be found at Syracuse University in central New York state...a mind-boggling 126.3". The second and third places went to Northern Arizona University in Flagstaff (97.6") and the University of Buffalo SUNY (96.1"). Given that this has been a winter for the record books, it would be interesting to know how current measurements compare to the historical. Any way you look at it, it's time for spring...

•

You say "tomato", I say "tomahto"...

From the Cambridge Online Survey of World Englishes: do you say "drinking fountain" (in green, 33%), "water fountain" (in red, 60%), "bubbler" (in blue, 3%) or "other" (in yellow, 1%)?

At the time of our 40th reunion in 2011, we included a "Where We Are" feature that showed how our classmates have disbursed around the country. Perhaps a better title for this story would be "How We Talk".

You may have already taken this dialect quiz...it's been a huge hit on social media ever since the NY Times published it in December of 2013. In fact, it was the Times' most popular page for that entire year. But in case you missed it, here's a chance to see how the peculiarities of your speech compare to the rest of the country.

The test was based on the work of a noted British linguist, with graphics developed by an intern at the Times. For many, it pinpoints their roots with startling accuracy.

Whether you call it "supper" or "dinner"...whether "Mary", "merry" and "marry" sound different or the same to you...chances are that life in Montana left a distinctive imprint on at least some of your speech patterns, even if you've long since moved away.

Here's the quiz:

http://www.nytimes.com/interactive/2013/12/20/sunday-review/dialect-quiz-map.html?_r=0


There's an even more detailed version of the test, but it requires a bit more of a commitment in terms of personal information and time. If interested, see "The Cambridge Online Survey of World Englishes" at

http://www.tekstlab.uio.no/cambridge_survey/


Enjoy, you guys...or y'all...or youse...or yinz...or you-uns...

•

THE GEYSER: 98 Years of

High School Journalism

From 1916 edition of The Geyser, courtesy of Yellowstone Gateway Museum

As if we needed additional evidence that the world has moved on, consider how the high school newspaper has changed.

In our day

Some of you were involved with the Geyser back when stories were hand-written and photos were developed in dark rooms. Those long-suffering typists at the Livingston Enterprise deciphered sheaves of our scribbled notebook paper. They used phototypesetting equipment to produce galley prints and the long, curling scrolls were returned to us for editing. The final galleys were trimmed apart and run through a machine that applied a wax finish so they could be repositioned on a board as each page was mocked up: "cut and paste" was a physical effort, not just a function on a computer. Finally, the layout was photographed, the negative was used to create a plate, and the issue went to print. It was a lengthy process that involved lots of trips back and forth between the high school and the newspaper office...news was hardly late-breaking by the time an issue came off the press.

In the beginning

Yet that was high-tech compared to the earliest days of its publication. Bruce Graham, a volunteer at the Yellowstone Gateway Museum and a Class of '64 alum, says that the first issue of the Geyser was printed in 1916. That was probably in the era of hot metal typesetting, when printers used a molten alloy to cast their own type. According to a story in the mid-1930s, the paper was founded by a group of young men who called themselves the "Thespians"...an odd choice since that's a name used by theatrical, not journalistic, societies. Papers sold for a fairly steep ten cents a piece. Adjusting for inflation, that's about $2.44 in today's money...close to the cost of the New York Times, if not the Sunday edition.

(As an interesting sidelight, Roland Kaiser served as both a reporter and the paper's first business manager. He was also the first student from Park County High School to enlist in World War I. He was honored with an early graduation ceremony when he was called to duty in 1917, several weeks before the end of the school year.)

The Geyser today

Contrast those days with the modern Geyser -- you can see an on-line version at www.parkhighgeyser.com. Be sure to read the article complaining about crowded hallways...apparently some things never change! Student journalists have technology at their fingertips -- literally. It gives them access to extensive research sources and provides grammar and spell check features that automatically correct their work. That capability alone would have made our advisor Mrs. Moore weep! Even the most basic desktop publishing programs can produce a fairly sophisticated design and layout...digital graphics can be manipulated to suit...and internet distribution is far wider than anything we could have imagined. All of it is lightning fast and without dependence upon on a large staff of adults to make it happen

The collection

You can view more than 300 Geysers at the museum's Resource Library. Bruce has been digitizing the collection with the ultimate goal of making the papers available on line. Until then, you can read them at the library, either as hard copy or using their public computers for issues already scanned (he's up to 1963). There are some editions from our years - several from1968 and 1969 - but none at all from our senior year. The single issue from 1971 was printed in the December following our graduation.

Put out the word to check basements and attics: Bruce needs issues from 1918-1920, 1925-1938, 1946-1948, 1961, 1970-1973, 1975-1977, and 1985-2013. This is a rough outline; there are gaps in other years, as well. If you have a stash of yellowing papers that you'd be willing to loan for this project, contact the staff at 406 222 4184. The museum is located at 118 W. Chinook St. in the old North Side School building. Winter hours are Thursday, Friday and Saturday from 10 a.m. - 5 pm. Starting in June, it will be open daily.

If you weren't already feeling your age, digest the fact that our high school memorabilia is now part of a museum exhibit...

•

From Around Town: Neptune's Brewery

Classmate Don Larson snapped this picture of something tall and frosty at Neptune's Brewery, a restaurant and microbrewery at 119 North L St. Don called this Honey Mead beer a "Viking drink" -- at 11% alcohol, he's not kidding. You may have sampled some of their craft beer at our 40th Class Reunion in 2011. TripAdvisor rates Neptune's as #9 out of 51 restaurants/bars in the Livingston area. Pub owner Bill Taylor lives locally and is also the Brew Master. You can visit the website at www.NeptunesBrewery.com.

•

LIVINGSTON ELKS: AN INSTITUTION

It seem that the Benevolent Protective Order of the Elks has always been at the corner of 2nd and Lewis (arguably the best place to watch the action and the people attending the annual Roundup Parade). But according to this photo from the Sax and Fryer Collection of the Montana Memory Project, it has "only" been at that location for about 100 years. The tag says:

Portrait of men standing outside the Elks Lodge B.P.O.E. 246. Bottom reads "G.W. Chamberlain E.R. [Exalted Ruler]- 1912- Lewis Terwilliger, Sec. [Secretary]." Livingston Enterprise June 6, 1912. It continued: "About 50 members of Livingston Lodge No. 246 BPOE congregated this morning on the corner of 2nd and Lewis to pose for a photo in front of the property recently purchased by the lodge
from John McLaughlin. One of the first log shacks built in Livingston, this first Elk home, will be put
on postcards and placed on sale."




•

Park High's Longest Running

Reunion Continues...

Look for us at the 15th anniversary of Summerfest -- July 18, 19, and 20.

For the 4th year in a row, the Class of 1971 will pitch a tent at its by-now regular spot. No organized activities...just a shady place to sit and connect with old friends. It's back far enough that you can actually have a conversation...the food vendors are nearby, but admittedly you have to walk a bit to get to the beer tent. We'll post more info about the acts and the schedule as it becomes available. In the meantime, mark the date on your calendar. Y'all come!

•

MONTANA WINTER PHOTOS

Photo by Jake Stengel, Visual Distribution Company

As part of an assignment for Travel and Leisure Magazine, San Francisco photographer Jake Stengel shot some beautiful photos of Paradise Valley, Chico, and even a few of Livingston. He makes cold look good! Check out the pictures on his website (they will scroll across the screen) -- you may need to copy and paste the address to your browser:

http://jakestangel.com/Deep-Montana-T-L

The Travel and Leisure story entitled "Cozy Montana Vacations" appeared in the January 2014 issue. You can read it at:

http://www.travelandleisure.com/articles/cozy-montana-vacations