Park Senior High School


Class Of 1971
UPCOMING BIRTHDAYS

Funeral Details - Brenda Ryles Adams
A viewing will be held on Sunday, November 23, 3-6 P.M. at Franzen-Davis Funeral Home & Crematory, 118 N 3rd Street. The funeral service will be at 11 A.M., Monday, November 24, at the Livingston Christian Center (1400 Mount Baldy Dr) with Pastor Steven Paugh Leuzinger officiating. Graveside committal and interment will be at Mountain View Cemetery. A fellowship reception at The Christian Center will follow.
Memorials are preferred to Park County Pioneers, Attn: LouAnn Skattum, 10 McDonald Creek Rd, Livingston, MT 59047; or the Aldedoo Temple, 1125 Broadwater Ave., Billings, MT 59102.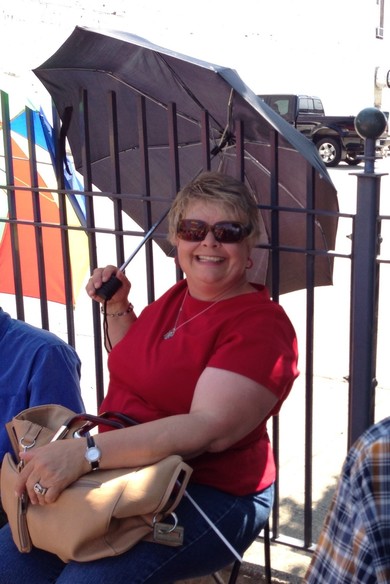 Brenda at the Livingston Roundup Parade, 2013
Classmate Loss
We're saddened to have lost another classmate, Brenda Ryles Adams, whose courageous fight with cancer ended on November 18, 2014.
Brenda was a member of the dedicated group that organized many of our class reunions. Besides working at a number of Livingston businesses over the years, she was active in the community. She was also a MaryKay cosmetics consultant and a sales representative for Asea dietary supplement. Prior to her retirement, she was employed at InstyPrints, where most of the town passed through at one point or another...and where everyone recognized that signature smile and big laugh.
She is survived by her husband Denny, their sons Stan and John, her beloved grandchildren, her mother, her brothers, her extended family and more friends than can be counted. We share their sorrow.